Last Thursday, I finally had another sonogram check-up on the baby. On October 1st, I saw the doctor for my glucose test. So that was the last time I've seen the doctor. Before the glucose test, the news I had of the ultrasound (in Georgia) was that my baby had fluid in his brain and that his heart has calcium. The doctor wrote down on my records that I was carrying high risks. They suggested that I do a following check up.
Doing this follow-up, I was somewhat at peace knowing that whatever the outcomes was, it is out of my control. I was trusting in Him.
Picture below: You'll see baby Andrew covering up his face, only see his left side and ear.
Picture below: you can see part of baby Andrew's face.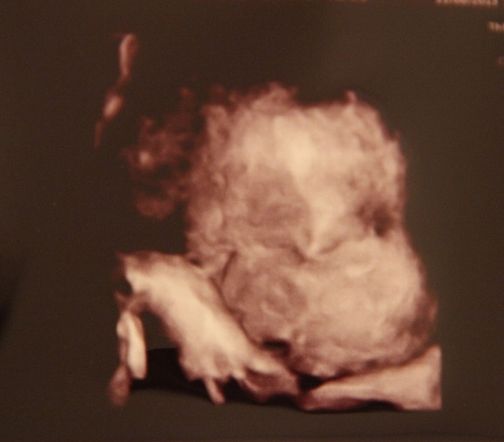 Here's an update on baby Andrew:
Here in Texas, I just went in for a recent follow-up on the baby. The sonogram doctor said that the baby's heart and brain is fine. PRAISE THE LORD!
However, she wants to see me every week from now on because I'm carrying small at 33 weeks (now I'm 34 weeks). I'd asked her why was I carrying small? I can't remember word for word but she said something like this:
1) It could be because you are small.
2) Genetic problems
3) Something about my blood isn't flowing as it should.
She did asked how much both of my previous children weight at birth. I said 7 pounds. The baby was 3 pounds something. I didn't understand what she meant so I went home and I looked up on the book and it said that at 33 weeks I should be 4 pounds.
Please continue to pray for the both of us. I greatly appreciate it.
Besides that, I'm thankful that I took care of some priorities. That's why I haven't been able to update lately. If you haven't known, I didn't have any insurance all throughout my pregnancy and paid out of pocket. It was very expensive but God took care of it financially. I don't know how but He did! While in Georgia, I was recommended to apply for Medicaid for Pregnant Women as I told them I was going to have the baby in Texas. I took care of that as soon as I got here. I wasn't sure if they'll accept or not because of all that's going on with Obamacare and all, you know? But... Praise the Lord! I've been approved.
Anyway, it's been crazy busy with us setting up the church every Sundays, potty training Joanna, visiting the doctors, Matt building an office at his parents' garage... on and on. So please, be patience with me. You'll eventually hear from me and like always I'll keep you updated.