Out of the others to choose from, this is the picture I decided to purchased and frame. Our re-take were successful and Peter has thoroughly behaved (...and no nose picking, YAY). All because I prayed, remember? :)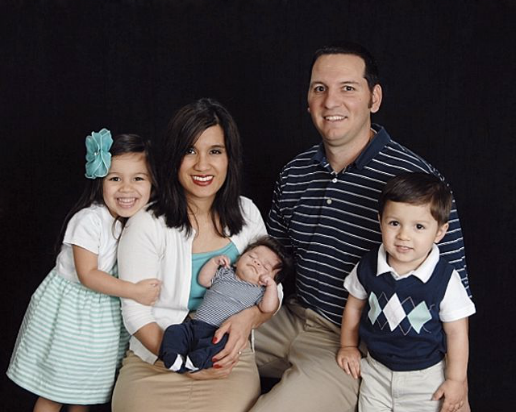 Hair Scare
Imagine walking to the rest room and seeing a cockroach on the shower wall. Would you have jumped or something? Well, I did! Yep, you've guessed it. Even my own hair scares me! What happened was that my hair fell down the "drain claw" and instead of Matt throwing it in the trash, he put it on the shower wall. Yeah Yeah...
Hand in sink disposal?
Are you kidding me? There is no way I'm going to stick my hand down the sink disposal! It's a scary thought of what would have happen... like getting my hand all chopped.. okay, I'll stop there. It's too graphic to share my thoughts. I've seen my mother-in-law clear out the disposal with her digging her hand down there. Brave but no thanks! One day, I was home alone with the kids and "felt" the disposal wasn't working properly and since my handyman wasn't there, I decided to use a folk to get the feel of what's in there. It had a mushy feel down there, I thought what could it be? Ah ha, perhaps a cloth. Sure enough, it was.
Baby Gio, Baby Drew
For awhile, I don't remember if I told you this but Peter has been calling Andrew: "Baby Gio" for awhile and most recently he's been saying "Baby Drew". I really like his nickname! Too cute! A lady from church has caught Peter saying "Andrew". I told Matt that and he'd doubt it. Then Peter said it again!
Drop glass
I don't know how I missed not seeing a glass on top of the counter, I swung my hand and it has splattered the floor. My kids were bare footed and Joanna was just about to walk into the kitchen, I've yelled and stopped her from entering the kitchen. I did not want her to get glass in her feet. So she obeyed and stayed put. I hurried and swept the floor and mopped it really good before my children or anyone walked in there with no shoes on.
Andrew looks small
There are times I get sad looking at how small Andrew is. I don't know why I guess I have been seeing other babies that are bigger than him at his age. He's 3 months and still looks like a newborn. Matt reminds me that he's just small but he is still growing. He's right. Today, Andrew looks a little different. I can tell he has grown some. It's time for me to post some more pictures. I know, I know.
Baked goodies failed
I've tried baking lemon bars and failed. How could I not known that my in-laws oven works so much better than my RV trailer's oven?! Next time, I have to "watch" all of my baked goodies so that I won't burned them.
Pinterest
If you have heard of it and never used it, that's fine. I was like that for a long time. I gave in when my aunt mentioned it and another friend of mine. Now I am hooked! I have found a lot of recipes, crafts, do-it-yourself, and so much more on there! Look me up and see what I have on my Pinterest page. Here is my link:
http://www.pinterest.com/sagalynn/
Peter is sneaky
Okay, kids are like that, right? I don't know how I didn't see it coming but everyone else saw it coming. Hmmm.. anyway, I picked up Andrew from the baby bassinet swing. Peter pointed and gestured to me to put him back. I did just that because I thought he wanted to play with him. It ended up that he wanted me to carry him, instead of Andrew. See? Sneaky!! And I honestly didn't see that coming!
Wedding postcard
My dear friend has asked me to help her design her wedding postcard. I am happy to help her! But I told her that I have never done one before and if all else failed, to seek a professional. This is project I have been doing for the last few days.
Lending our RV trailer
A pastor friend asked if he could borrow our RV trailer home until him and his wife finds a home. Matt brought it to my attention and made sure it was okay with me. I was at peace about it. I never ever would just let anyone use it. I like to take care of the things that the Lord gave us. Also, I wanted to be a blessing. This pastor friend was called to pastored a church and sold his home and needed a place to stay. So he'll have 2 weeks to move out of his house. We are busy unpacking all of our stuff into my in-laws. It's also good on my part so that I can give rid of things I haven't used it well... forever.
San Antonio
This Friday and Saturday, Matt and I (and Andrew) are all going to take a trip to San Antonio. Reason? My birthday! YAY!! Well, my birthday is on Saturday. I'm excited to have the opportunity to go someplace and enjoy my birthday with my loves. Grandma and grandpa Guerra will be babysitting my two older children: Joanna and Peter. Thanks so much!!!!!
Okay... I guess that is all I have to update you with... I'll try and update weekly if not everyday or every other days.